New Video: Sonic Classic Beta Playthrough
by Tristan Oliver
May 7, 2010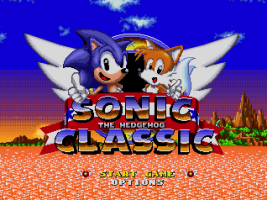 A Rough but Super Playthrough of Hazel Hills Inside
From the time to time, new details come out concerning one of the more closely watched SFGs in the community–that being Hez's Sonic Classic.  If nothing else, what we've learned today will demonstrate that leaks aren't limited to more official fare.
This morning, Sonic Retro forumer djdocsonic posted over two minutes of footage from, in his words, a beta edition.  Sonic Classic remains in development with no known release timetable, but Hez has released one public demo, and previously a version that contained most of the game's contents by mistake.
In this runthough, you'll see peeks at the modes, options, and level select.  From it, we can determine a two player mode, as well as a Challenge and the aforementioned trial mode will make the cut.  From the looks of the level select, so will nine original zones with two acts each, including a re-imagination of the Final Zone.  Remastered editions of all zones from the original Sonic the Hedgehog will also appear.
From there, you'll watch a quick runthrough of the first act of Hazel Hills, completely in debug mode, and almost completely as Super Sonic.  There are some items left to be improved–such as Super Sonic's not always yellow color–and there are items yet to be implemented, like the bonus stages.  Still, there's much to like of Sonic Classic thus far, both visually and asthetically.
Be sure to watch the new video below.  We'll be sure to keep you informed on the SFG's progress.