More Screenshots of Sonic 4-Esque Fan Game
by Tristan Oliver
May 21, 2010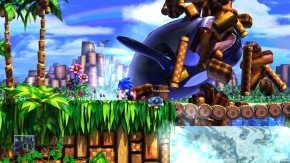 And New Information–Your Netbook Can Handle the Visuals
Buried among the Sonic 4 hype yesterday was new information on the Unity based Sonic Fan Game from pelikan13.  When details first emerged, immediate comparisons were drawn to the official Sonic the Hedgehog 4, and the SFG was praised for its stunning visuals.
Now, there's word from pelikan13 that the SFG is now a collaborative effort, according to a post he made at the Sonic Retro forums last night:
Mercury has been porting his GM engine on to Unity with great results and this has given me the time to refine an polish up the art as well. For more details about the programming just ask him.

I'm not going to move on to other levels until we have a fully playable first level so I'm still experimenting with ways to streamline level creation and adding more content.

The game right now runs very smooth on my Satellite L555-11U and with some of the effects turned off it's even playable on an Acer One netbook, that should give you an indication of performance.
The Netbook claim may be a high expectation for that specific audience, but if it can be done, it should increase appeal even more–especially when you see the new screenshots posted of the game.  They're in the gallery below–and yes, one of those shots could tell a whale of a tale.