Five More Virtual On: Force Screenshots
by Tristan Oliver
June 7, 2010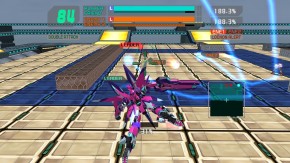 May the Force Be With You
Released Friday by AndriaSang were a handful of more screenshots from the upcoming XBOX360 release of Virtual On: Force.  So far it's only confirmed for Japanese gamers, out this Holiday season.
You'll get another look at the multiplayer component in these shots, and for those who did play the original arcade release in 2001, you'll be able to further access Force's conversion to high definition.
That's all available in our gallery below.  We'll continue to bring you updates on the game's arrival to XBOX 360–and any hope of it coming stateside–as details come along.