New Information on Sonic Free Riders
by Tristan Oliver
June 14, 2010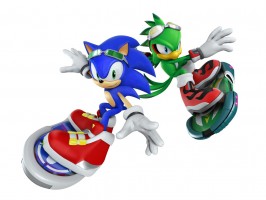 First Info on Weapons
A Kotaku report details some tidbits of new information regarding Sonic Free Riders, the XBOX Kinect exclusive tentatively scheduled for release on the peripheral's launch day, November 4th.
Despite it not overtly stated in the Sega presser, the report has some information you could have deduced on your own, like confirmation Tails and Dr. Eggman will return as playable characters.  There's also some information you may not have known, such as the reported weapons system.  Players can use Kinect to hurl items such as bowling balls, rockets, and other traps toward opponents in the race to the finish.
It's not much for now, but we'll see if anything comes of the media blitz that accompanies the first proper day of the Electronic Entertainment Expo tomorrow.