Destructoid's Sonic 4 E3 Preview
by Tristan Oliver
June 15, 2010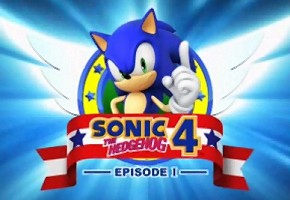 "If you're worried about Sonic 4 being true to the old formula, don't be"
Into us via a News Tip from Professor Pickle are more kind words from an E3 playthrough of Sonic 4's Splash Hill Zone–this time from Destructoid.
Dale North's writeup had nothing but good things to say of the coming downloadable title.  Of particular note is his difference between watching the game in action–where he had some concern–versus actually playing it:
This works out to a Sonic game that feels just like the old ones. Watching the game before playing had me concerned that it wouldn't, but when I finally got my hands on it, it felt good. It felt familiar. While Sonic's jumping spin animation looks slow, its functionality isn't. His left-to-right movement seems to move exactly where I point him, and landing on targets, bumpers, and over spikes is just as intuitive as it used to be on my trusty Genesis pad.
North also complimented what has been a sore sticking point for some fans: the game's soundtrack:
I really dig the retro touch in the musical score. The music is classic Sonic, as they brought the original composer back to do Sonic 4's score. It sounds like it's played back with 16-bit synthesizers, but this time with CD-quality audio. This is a nice parallel to the game's visuals, which look like the old games, but have also been improved with technology at the same time. Overall, from what I heard, the music is fun, and very true to the original scores. There's new "invincible" music, and it's quite cute.
So far, so good for Sonic 4 at this year's expo–but keep in mind, only the first zone is on display.  TSSZ News will continue to bring you new information and impressions throughout the week.