Balough on Sonic 4 Leaks: "We Want to Hear the Right Feedback"
by Tristan Oliver
June 21, 2010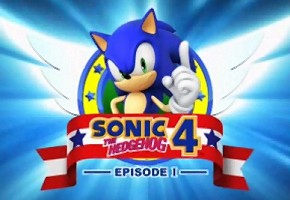 Sega Wants Input, but Only From What They Give You

In an interview from last week's Electronic Entertainment Expo between Destructoid's Jim Sterling and Sega's Ken Balough, you get an added sense of how far under wraps the company wished Sonic 4 to be in its infancy–until a PartnerNET leak mucked the whole thing up.
"It's unfortunate that such an early build of Sonic 4 was made more public than we liked," Balough said in the piece published today.  "It's a shame such an early concept was viewed upon when the reality is that the game we have today is very different from that."
Officially, last week marked the first time the game had been playable to members of the press and other attendees at E3.  Previously, previews had been written by several outlets only remarking on playtime by Sega employees.  Before that, all of about 20 screenshots and about 20 seconds of gameplay video were officially available for fans to review.  But when a build of Sonic 4 first leaked to PartnerNET in February, details of the entire game's had slowly made their way to the Internet and into the fans via video recordings–including the presence of a mine cart level in Lost Labyrinth, and the spoiler tease for a Metal Sonic appearance in Episode 2 at the end credits.
It is that build which many fans continue to base their opinions off of, and according to Balough, it is an unfair and unofficial hurdle for Sega when factoring in fan feedback:
We do want fan feedback and part of the extended development is to incorporate a lot of the feedback we've gotten. We do want to hear it a lot, but we want to hear the right feedback. A lot of fans saw a build that was so early on that we've moved well beyond it. It's sort of like giving feedback on a concept car instead of the actual prototype, so while some of the criticism was relevant, a lot of it wasn't anymore, which is unfortunate because we want to hear what fans have to say.

[….] More than anything we want to lay to rest fan concerns that the game isn't polished or doesn't have what it needs and I think a big part of that message was extending the development and making sure that fans feel like they've been heard because they have been.
In some community circles, Balough has been accused of blatant PR puppetry–misrepresenting both the level of fan feedback Sega has considered for Sonic 4 thus far, and the current state of the game itself.  The "right" feedback may be what Sega releases on its own time, but many suspect that without the leaks, any hope of a delay would have been questionable at best.
Sterling's article also references Mine Cart backlash as one of the reasons for development extension.  We wonder where that's been said before.