Sonic Manga Repository Opens
by Tristan Oliver
June 28, 2010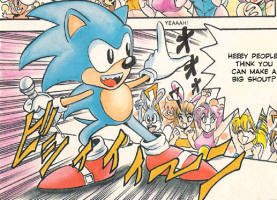 Translated to English, One Page at a Time
The fruits of one fan's research and labor have yielded the beginnings of the Sonic Manga portal, hosted by Brazilian site Portal Sonic.
One page a day is being released in English of Sonic the Hedgehog Story Comic Volume 1 courtesy of DeviantARTist Bubba-TRex.  There are three volumes in this series, from 1991 Japan.  It is believed to be among the first Sonic graphic novels published, packed along with copies of MegaDrive Fan.
Once that series is finished, Bubba-TRex will publish pages from the 1992-93 manga era from Shogakukan.  Within those pages are the formal debuts of both Amy Rose and Charmy Bee.
When completed, the Sonic the Hedgehog Manga repository will be a key base for Sonic fans to dive into another, perhaps more official core storyline.