Sega Affirms Tokyo Game Show Presence
by Tristan Oliver
July 1, 2010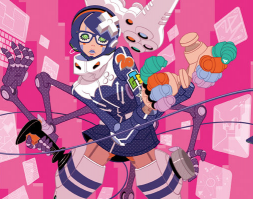 But Why in the "Family Corner?"
It was expected, but nice to have confirmed: An AndriaSang article assures fans that Sega will have a large presence at this year's Tokyo Game Show.  They will join other big names in gaming like Microsoft, Square Enix, Namco Bandai, Capcom, and Sony in mid-September at the Makuhari Messe.
In fact, Sega will join many of the aforementioned at the TGS's special Family Corner.  Unlike other big conventions, the TGS is open to the public and for that reason is divided into specific areas that cater to various demographics.  But with another mature entry into the Yakuza series just announced, how much sense will that make?  No worry there, because Sega will have a separate presence at the general exhibit area.  We suspect the more adult titles will be housed there, with fare like Sonic Colors or even Sonic the Hedgehog 4 stealing the show in the family area.
We'd like to remind you TSSZ News has a Japan based reporter.  Danny Russell will be sure to check out the 2010 TGS–as he did last year–and bring you all the developments from the show floor.