Sega's Webber Mocks Current Sonic Birthday Contest Entries
by Tristan Oliver
July 1, 2010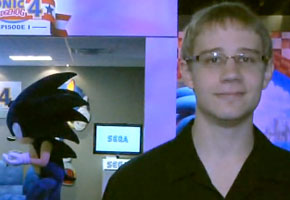 Did You Enter?  It's Probably Not Good Enough
Aaron Webber, who clearly made it known when announcing the Sonic Birthday contest that he and the community team at large were "looking forward to seeing your entries," is apparently having second thoughts, now that they are streaming in.
Known in the community under his RubyEclipse handle, Webber appears not pleased with at least a portion of entries received thus far–and said so publicly to members of NeoGAF in a post Tuesday.  The Sega of America community manager who had a key role organizing the project stereotyped what's been received, and infers that, at this rate, it won't take a lot to be a finalist in the contest–a disappointing sign for anyone who's entered thus far.
"We're getting a fair bit of 'Look at my Sonic collection and this music video set to CG cutscenes from old Sonic games!', which means that anyone who does something original and puts in a fair bit of effort has a good chance of making the top ten," Webber said, inferring that judged mediocrity has so far outweighed a select few probable contenders in volume.
Up for debate is not the reinforcement of originality–that was a clearly stated component of the contest rules.  The same can be said for Webber's point on effort, which will be a part of the 35 point system judges use in assessing entries.  It's that Webber–to this point immune in his words from the snark and sarcasm that still plagues the community–would, in one sentence and with such a broad brush, potentially deflate so many fans' hopes of making it to the next round before finalists are even made public, discourage future entries, and lower the bar of expectations in the process.
On the other hand, it is the clearest indication thus far of what not to submit for the competition, which ends July 12th.  And as the So Much More contest from earlier this year shows, the talent exists.  In that regard, it's admirable to see anyone trying to raise the bar.
The irony with Webber's remarks is that, if the trend continues, some of those videos he directly references may end up with prizes anyway.  Remember that Sega is giving away 100 "random" pieces of Sonic swag to participants, and the chances that an onslaught of better material will completely replace what exists in the final twelve days are questionable.  If the rules and regulations are upheld, some of those videos could yield at least a small prize, even if they're not up to Webber's expectations.
Whether the entries so far are good or not, do you think Webber should have kept his assessment private?  Or do you think it will encourage interested fans who haven't yet entered to step up?  Your input is welcome in the comments area.