Product Page for Free Riders Revises Multiplayer Downward
by Tristan Oliver
July 6, 2010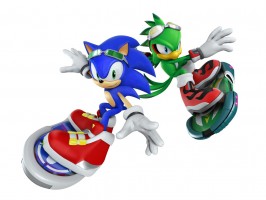 Now 2 Players Max Locally, Online TBD

You may member our report last month touting up to 12 player online action for the upcoming XBOX Kinect exclusive Sonic Free Riders–four player, locally. Shortly after that, we posted a story detailing how Kinect may only realistically support 2 players locally at a time, straight from the developers behind the technology.
Be it at Sega, Microsoft or both, someone apparently put two and two together reading that new information. The result is a downward revision for the game's multiplayer capabilities, and new questions on if there will even be an active online component.
XBOX.com has updated the SFR listing. Locally, the max players is cut in half, from a previously advertised 4 down to just 2 players–in line with peripheral developer PrimeSense's thinking. "Multiplayer Versus" still indicates hope for two player action, but previously advertised online play for up to twelve players is now oddly missing. Content DLC and online leaderboards remain advertised features. But co-op multiplayer is also listed as TBD.
Also noteworthy is a change of developer listing from O-Two to Sonic Team proper. That said, it's still likely O-Two is principally working on SFR, lest there be strained developers at Sonic Team.
The game is just four months away from release, and that so many absolutes have yielded uncertainties may be cause for concern. That aside, we will continue to track developments on Sonic Free Riders and see how this Kinect launch title pans out.