SAGE 2010 Officially Scheduled for August 8th-14th
by Tristan Oliver
July 6, 2010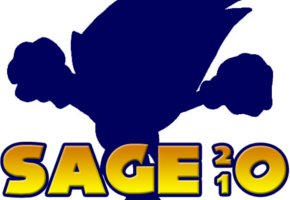 August 1st the Deadline for Booths, Events
Early this morning announcements were made the official timetable for the 2010 Sonic Amateur Games Expo, now in its fifteenth iteration and tenth year.
The web only expo will be held August 8th through 14th at SAGExpo.org.  The same team will be behind this year's festivities.
No specific announcements have been made yet regarding firm SFG appearances or guests, but we can tell you submissions for both booths and events are due by August 1st to sagexpo2010@gmail.com.  Specifications for submitting both are below.  Thanks to Blazefirelp for submitting the tip in.
TSSZ News was proud to bring you by far the most comprehensive and independent news coverage from last year's SAGE.  This year will be no different.  Be assured, we'll be covering all that's there, with daily previews, reviews, and insight from the Q&A sessions.  More will be announced in the few weeks leading up to the expo; be sure to keep it here for the latest.
TO SECURE A BOOTH

The subject of your e-mail should be "Booth." Your e-mail should contain a link to your booth where we may download a working demo of your game. This should be the final booth location of where you would like your demo to be linked to on the SAGE website. If this booth location changes, please notify us no later than 48 hours before the beginning of SAGE.

TO SCHEDULE AN EVENT

The subject of your e-mail should be "Event." Your e-mail should contain a description of the event you would like to host and what day(s) you would like the event to occur on. If you require specific time(s) to host your event, please provide it to us in your application. If no specific time is provided, we will schedule you at the most appropriate time(s) alongside other events. You will be notified of the time(s) we schedule for you within 24 hours after your initial application e-mail.