UPDATE: Orange "Rocket" Wisp Coming to Sonic Colors
by Tristan Oliver
July 12, 2010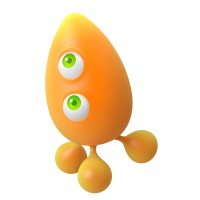 See it in Action…in a New Stage
Sega is evidently giving Sonic Colors the Sonic 4 treatment, offering a small trickle of new information over time.  Today, the European division officially unveiled the orange wisp for the game.  We have high resolution art of it in our gallery below.
According to the Sonic City Blognik, this wisp has rocket power, and will be available for both Wii and DS editions:
Ready to help Sonic put a stop to the diabolical plans of Dr. Eggman on both the Wii and DS version of the game, when Sonic absorbs the Orange Wisp's power, he blasts into the air like a rocket in an explosion of colour, reaching unparalleled heights at staggering speed. Much like its Yellow cousin, with the Orange Wisp, Sonic is able to reach secret areas and hidden rings far beyond his normal reach!  What secrets will you find?
Also in our gallery below is the wisp used in a previously unseen stage, not quite as colorful or abstract as what we've seen to this point. (We've since UPDATED the in-game photo to a higher resolution.) More Sonic Colors information will follow, here at TSSZ News.