NiGHTS fans open discussion with Yuji Naka
by Ryan Bloom
July 14, 2010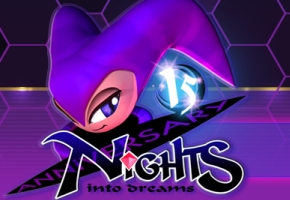 18 questions about his "E.T."

Game developers are not usually very easy to get in contact with. You hear stories about it all the time – like when Shigeru Miyamoto went around the E3 show floor a few years ago, handing out business cards with his personal email address, he apparently had an entourage of Nintendo employees following him around demanding those business cards be returned. You could consider it a method of protecting their assets; it stops rival companies from stealing the best and brightest talent from their competitors, among other things.
But not Yuji Naka. Since founding his own videogame development studio PROPE, Yuji Naka answers to one person: himself. So, when Nightsintodreams.com's DiGi tried to reach out to the Japanese game developer… well, he actually responded.
We wanted to ask him questions that general gaming sites and magazines hadn't asked him before. The geeky fan stuff. Less about the technical side of things and more about the heart and purpose of the game. We had 24 hours to think of the things we wanted to know the most. In the end 18 questions were put forward. Things that had been picking our brains for a very long time.
And true to their word, the questions go considerably deeper than your standard interview fair, touching on inspiration for the characters, the mysterious language that is spoken in the game, and psychologist Carl Jung's analysis on the nature of dreams themselves. Naka-san also re-iterates his feelings towards making a NiGHTS sequel – in the same way Steven Spielberg refuses to make a sequel to "E.T." because it's his best work, Naka-san does not want to make another NiGHTS game. But, that's not all he reveals about the legendary Hollywood director:
Oh, the first person to play NiGHTS, other than the SEGA team, was Mr. Spielberg. During the development of the NiGHTS game, he visited SEGA and we asked him to play with an experimental version of [the Saturn Analog Gamepad]. Since then we called it the Spielberg controller.
The rest of the interview can be read here. Thanks for the news tip, Mathias Silvers.