10 New, HD Sonic Free Riders Screens
by Tristan Oliver
July 16, 2010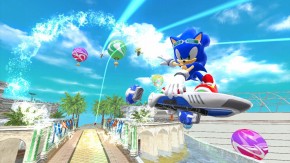 Catch Some Air, in High Resolution

Below in our gallery, courtesy of French website Jeux Video, are ten new screenshots from the upcoming XBOX Kinect exclusive Sonic Free Riders.
Many, if not all the screenies appear to be from the test stage that was on display at this year's Electronic Entertainment Expo. The shots appear a bit jagged and almost serve as a reminder of Wii capabilities–far below the capabilities of an XBOX 360.
The shots are still worth a look, and they are available below.  We'll continue to keep you updated on Sonic Free Riders here at TSSZ News.  Thanks to Adamis Fox for sending this into us.  If you have news to share, be sure to share it with us by clicking News Tips at the top of every page.