Phantasy Star Universe XBOX360 Supplemental Update Now Available Domestically
by Tristan Oliver
July 21, 2010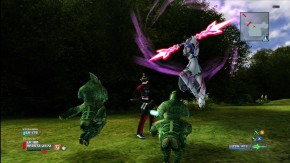 Ambition of the Illuminus Now Free Update; Screenshots Inside

Sega gave a heads up to the so-called Supplemental Update to Phantasy Star Universe on XBOX360 back in the Spring, and as of now, that update has been made available.
It's under a different name domestically–Guardians Advanced Content–but for fans of the franchise it ends a long period of patience.  The append had been released in Japan early in 2009.
Chief among the update amid its new material and character balancing is the ability to earn Advanced Experience Points.  A post today on the Sega of America blog explains what AEXP is, and more:
This special type of experience can be collected by players of all levels and used at the level cap to customize abilities and powers, giving an unprecedented control over your character's abilities. You can, for example, add damage to certain types of weapons, and become a specialist with your favorite gear, or you can add unique defensive abilities and give yourself more utility on the battlefield.

There are also new missions added, with the "/R" designation after their title, which are unique group-oriented missions. These missions have special rules designed for greater challenge and group play, and help players earn more of the "AEXP" for customizing their characters.
All players–even those who already had it–need to re-download PSU's Ambition of the Illuminus append for the Guardians update to work.  However, Sega has made that required update available for free on XBOX Live, now and forever more.
To mark the occasion, Sega released 10 new screenshots from the Guardians pack.  They are in our gallery below.