The Near Complete Sonic X, Now on Hulu
by Tristan Oliver
July 27, 2010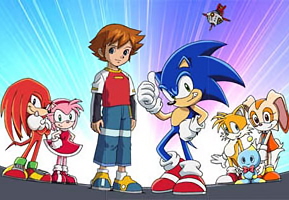 All But 6 Dubbed Episodes Now Available
For those who never followed Sonic X and live in the United States, the chance to catch up is now almost completely available for your conusmption via Hulu.
All but six episodes of the 4Kids/TMS series are available dubbed at the online video hub.  If the English dub isn't your cup of tea, the complete first season is now available for streaming.  Nineteen of the first 26 episodes were rolled out subbed in April.  4Kids has been adding episodes, dubbed and subbed, ever since.
We remind our international viewers that it's a bit difficult to access Hulu outside the US, however–though we hear some proxy workarounds help.