Iizuka Says Sonic Colors "Not Going Through the Sonic Cycle"
by Tristan Oliver
August 3, 2010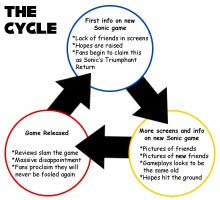 Points to Hands-On Access as Proof Positive
A second, short interview with Takashi Iizuka surfaced yesterday from Videogamer.com–and it directly references that dreaded Sonic Cycle.
There's two surprising elements to take away from his remarks; the first being his apparent awareness of the now infamous and mostly standard procedure for Sonic fare since 2006.  There's no indication as to whether reporter James Orry had to explain the steps to Iizuka.
With that benefit of the doubt in mind, the second noteworthy point is his assurance Sonic Colors won't fall under those circumstances.
"…The team is confident that this is a game everybody can really enjoy.  That's why we've offered a lot of hands-on for E3," Iizuka said.  "It's something that the team is really confident from the gameplay side. It's something that, this time, the team thinks they've nailed it – it's definitely not going through the Sonic cycle!"
It will ultimately be for consumers, fans, and critics to decide whether those words serve purpose, but it's worth noting one other thing: such direct promise hasn't yet been given by Iizuka or anyone of his prominence for another closely watched title in the pipeline: Sonic the Hedgehog 4.