New Video: 1st Clean Footage of Sonic Free Riders
by Tristan Oliver
August 5, 2010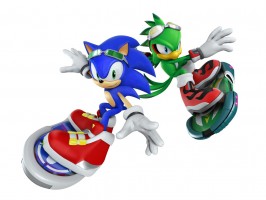 Plus, First Clear Look at Multiplayer
While we're waiting for IGN to get their video preview promised earlier this week together, we have something else Sonic Free Riders related to show you from 1UP.com.
The video preview below, a bit over 3 minutes long, contains the first clean look at SFR gameplay, and unlike the bad taste some received from screenshots, there isn't much to say about jaggies here.
You won't see anything new stage-wise, but you will get a brief glimpse of the game's multiplayer component.  The 1UP team also speaks generally about how Kinect works, and at this pre-launch stage, they were pleasantly surprised.
Take a look below.  Thanks to gamelordabd for sending this into us.  If you have news to share, be sure to share it with us by clicking News Tips at the top of every page.