Giantbomb's Sonic Free Riders Quicklook
by Ryan Bloom
August 6, 2010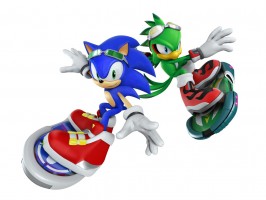 Video preview shows plenty of direct-feed footage

GiantBomb.com has not been kind to Sonic games. In January of 2009, the site gave Sonic the Hedgehog the "Take a Break" award, and more recently, co-founder Ryan Davis has ripped in to Sonic the Hedgehog 4: Episode 1 with a profanity-filled rant on their podcast. Well, Ryan Davis is back with a video "Quick Look" at the Kinect-powered Sonic Free Riders. For those worried about listening to Ryan spit more hate-filled vitriol, rest easy: GiantBomb's trademark sarcastic and cynical tones are muted by the presence of Sega's own David Allen, who helps guide Ryan through the game and explain the controls.

(Can't see the video? Click here!)
Judging by the video, new to this version of the game is the ability to ride your board either normal or the reversed-direction "goofy", and switching between the two styles will change your board's ability. For example, while riding normal, Jet's board ability was "speed", but switching to goofy changed it to "flight" instead. According to David Allen, these skills can be customized before the start of a race. This is something 1up briefly touched on yesterday, but it's explained in better detail here.
Ryan seems to struggle a bit with the controls in the video (especially near the end), and notes several times how physically taxing it is to play the game. Even just getting past the titlescreen seemed to have a little bit of initial disorientation to it.
No doubt Sega is making the rounds with this Free Riders demo, so if any other similar videos turn up, we'll keep you posted.