Sonic Free Riders Multiplayer Details Clarified in France Demo
by Tristan Oliver
August 19, 2010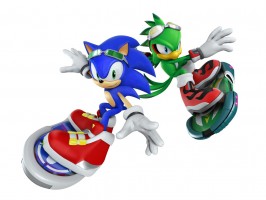 Clearing Up Confusion, Hopefully
Details from a Sega France demonstration of Sonic Free Riders offered to French Sonic site and TSSZ News affiliate Eversonic re-affirm a key area of the game once disclosed, then revised–the multiplayer component.
Sega France reps said at the Monday demo–and Eversonic's Fox Gungrave reaffirmed–that SFR plans to support up to 4 players offline, and up to 12 players online via XBOX Live.  You may remember this as the original information Microsoft promoted for the game.  In July, those details were revised downward on the XBOX product page.
If this holds, it will again spur debate on whether Kinect–the hardware required for SFR to run on XBOX 360–can handle that many bodies simultaneously.  Thus far, all multiplayer demos of SFR, including this one, have been with only two people at a time.
TSSZ News will carry Eversonic's impressions and preview of Sonic Free Riders in English later on.  We'll continue to follow developments on this particular matter–and we thank Eversonic's Fox Gungrave for translating and furnishing it to us.