Five New Screenshots of Ashura: Dark Reign
by Tristan Oliver
August 26, 2010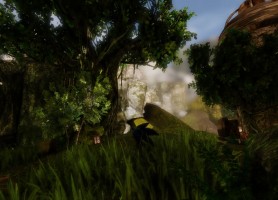 And an Update on Improvements Since Spring
Here's an update to a 3D Sonic game we'll actually get to play in due course.  Production continues slowly but surely on Ashura: Dark Reign.  Today, the A:DR page was updated with new shots and details on changes, big and small, to the work in progress.
Screenshots are always good, and we have them below.  But when will we see A:DR in action via a new video?  It won't be for a while, according to the update from Dekrayzis–perhaps not until the Holidays.
"This is because I want to try and cram into the video things that has NOT been featured before, and also what was previously incorporated into the UT2004 mod version that we were working on a year ago," he explained.
When the time comes, we'll hopefully see plenty of the improvements detailed in today's update.  Sonic's spindash has been implemented, as has braking, skidding, and other physics changes.  Visually, more effects have been added to an already beautiful game, including a special blur effect when underwater, and additional polish to shields.  Base animations to Sonic himself have also been updated.
You can see the fruits of some of this labor in the gallery below, including the first peek of a new Labyrinth Zone style stage.  There will be more to come in future weeks and months, and we'll be sure to let you know of any updates to this exciting and visually impressive SFG.