Sonic Adventure XBLA Planned for Release 9/15
by Tristan Oliver
August 31, 2010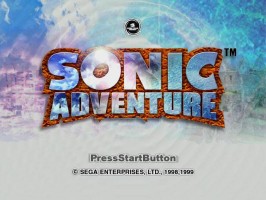 PSN Release Still TBD, Five More Shots of the Conversion Inside
First disclosed on Major Nelson and eventually backed up by Sega of America's community team, Sonic Adventure for the Dreamcast will be available on Microsoft's XBOX Live Marketplace in about two weeks' time.
The formal re-release of the Dreamcast classic will occur September 15th, at a cost of 800 MS points.  That's the American equivalent of $10, £6.80 in Britain, and €9.30 for the rest of Europe.  Interesting to note, no corresponding SA announcement was made on the European side of the community team today–and as release dates tend to fluctuate from one territory to the next, the September 15th date may be more a guide for Europe than a firm release date.
The date is absolutely a guide for owners of a Playstation 3, as no further details on SA's PSN release were made public today.  The SOA community blog entry only noted information on that would be coming "soon."
To complement today's news, Sega released a few more screenshots from the XBLA upconversion.  They are in our gallery below, and as you can see, the game will retain a 4:3 aspect ratio.  Thanks to Ceejus and Matriculated for sending this in.  If you have news to share, be sure to share it with us by clicking News Tips at the top of every page.