Sonic Free Riders Priced at Full MSRP
by Tristan Oliver
August 31, 2010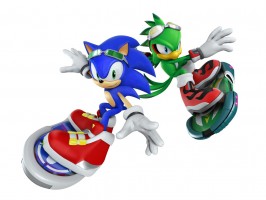 Inside, High Res Box Art
Today, Sega of America affirmed what many fans had feared–you will pay a full price to play Sonic Free Riders on Microsoft's Kinect, considered to be the weakest of the three Sonic offerings for the coming Holiday season.
That price will be $49.99, Microsoft's suggested price for all Kinect titles, and the price given to Kinect's first party fare.  Though it is ten dollars less than a regular XBOX 360 title, many fans have balked at paying such a steep price for it and the $150 hardware needed to play.
No other concrete information was released by Sega to accompany the news–just more mystery.  The announcement by SOA community manager Kellie Parker only mentioned a release of SFR during "this Holiday season."  At E3, Microsoft promoted the game as a launch title when Kinect is shipped to stores November 4th.  That only one stage has been demoed to the gaming press with about two months to go until launch may suggest Sega wants to take a touch more time with SFR, but that is to be determined.
What was released in addition was the game's official box art.  We have that in high resolution for your review below.  Thanks to iFox and ThE InFoRmEr for sending this in.  If you have news to share, be sure to share it with us by clicking News Tips at the top of every page.