Report: Sonic Colors Multiplayer Co-Op, Earned In-Game
by Tristan Oliver
September 2, 2010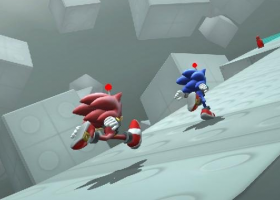 "Fun vs. Frustration," says IGN
It's a double dose of previews from IGN today; the second one revealing a major component of Sonic Colors only previously alluded to.
It's the multiplayer, and it will be, in theory, a co-op endeavor, according to the media megasite's preview released today.  It will not be immediately available for players; instead, secret rings littered through the single player campaign unlocks various stages of the campaign.
Sonic isn't technically playable in multiplayer, either.  Instead, the antennae found in the wild screenshot seen above denote what IGN calls "robo-Sonics" of various colors produced by Eggman.  They will travel through levels built specifically for two players; no mention was made of a campaign for anything beyond that number.
The preview states that while some cooperation is required, it is at the same Sonic speed in the single player campaign, and that often leads to problems:
Sonic Colors co-op is the Ivan Drago of platformers, aiming to break you on a regular basis. Everything is basically the same speed in co-op as it is in single-player, which leads to some hilarious confusion as each player tries to run each course without colliding with dangerous obstacles, enemies, or, well, each other. During my time with multiplayer, I felt that there was a hint of competition inherent in the way the levels were laid out: from pulley systems that pretty much require both players to air dash into each other over and over to move upward to covert battles to collect more rings than the other player.
Wisp powers will be a part of the multiplayer mode, and from the sound of the preview, powers can and will need to be combined in order to complete stages.  IGN pegs the total stages at six "tiers," three levels each–so we may see six giant areas divided up, or eighteen smaller ones.
All in all, the preview affirmed the mode may take some getting used to:
My issue with co-op thus far is one of fun vs. frustration. A certain level of frustration is sort of par for the course with platformers and co-op games, too, but I often felt like I was dying through no fault of my own and that hurt the fun I was having.
No new video or images were released as a part of the preview.  We will hopefully see if the multiplayer mode pops up in a new build of Sonic Colors when the Penny Arcade Expo opens this Friday in Seattle.  TSSZ News will have more information as it comes in.  Thanks to Woun for sending this into us.  If you have news to share, be sure to share it with us by clicking News Tips at the top of every page.