More Screenshots of Sonic 4-like "Sonic Fan Game"
by Tristan Oliver
September 7, 2010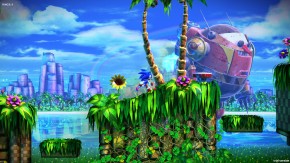 This Two Act Demo is "Nearly Done"
Unlike the Mushroom Hill video seen last month, there is a fan work out there that will be both beautiful and playable–perhaps in the very near future.
Pelikan13 offered a short update to his project known thus far only as "Sonic Fan Game" yesterday on Sonic Retro.  He offered two more in-game screenshots, and some details on what to expect upon the first release.
"The demo will consist of two acts, one during the day and one during the night," Pelikan13 wrote, adding that the demo is "nearly done now" and is seeking music composition ideas or contributions.
We should see something playable shortly, and only then will one key question be answered: Does this game play as well as it looks?  Still, for the moment, we only have looks to judge, and the screenshots below look incredible as ever.  Check them out below.