New Video: Sonic Free Riders TGS Trailer
by Tristan Oliver
September 13, 2010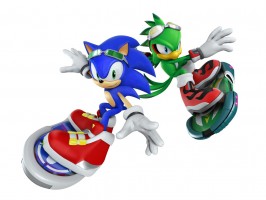 Rocky Ridge, In Action, Inside
This morning Sega streamed as part of its Tokyo Game Show lineup the first official trailer for Sonic Free Riders.
Much of the footage is from the first stage, but there are bits and pieces of the just unveiled Rocky Ridge stage…including Sonic controlling a minecart.  Apparently Sega just can't distance themselves away from the idea.
The video has been uploaded to Youtube courtesy of Woun, and it's below.  As it's originally from a Ustream feed the quality is a bit pixelated, but if we see a cleaner version we will update.  Thanks also to curly hair wisp for sending the tip in.  If you have news to share, be sure to share it with us by clicking News Tips at the top of every page.  And remember, TSSZ News reporter Danny Russell will be on the show floor of the 2010 Tokyo Game Show later this week, so keep it here for developments direct from Japan.