Sonic Adventure PSN, Japan Re-Release Details
by Tristan Oliver
September 15, 2010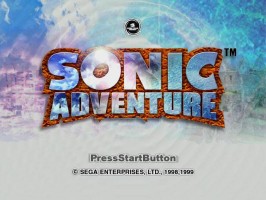 Out Next Week for PS3, the Week After with DLC in Japan
After today's release of Sonic Adventure to XBOX Live, fans around the world and on other consoles have wondered when they'll be able to enjoy the Dreamcast classic.
We have some more details there.  Today Sega issued a release stating their intent to release SA on the Playstation Network next week, on September 22nd.  In Europe, it will retail for £6.29 in Britain, and €7.99 elsewhere.  In US dollars both numbers hit in the $10 range, so expect a similar price point for North America.
And in Japan, Andriasang reports both XBOX 360 and PSN will see release on September 29th, at about the same price–800 points for XBOX Live, ¥1,000 for PSN.  The game will support DLC, and an append upgrading the game to the DX edition will be available at an additional cost of 400 MS points or ¥500, depending on console.
Sega Europe also released a trailer promoting today's release, and it's below.  Thanks to Spyhedg for sending this in.  If you have news to share, be sure to share it with us by clicking News Tips at the top of every page.