11 HD Quality Sonic Free Riders TGS Screenshots
by Tristan Oliver
September 16, 2010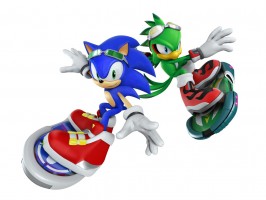 Direct from the 2010 TGS, in Clean 720p Resolution
Below in our gallery, you'll find eleven new screenshots from the upcoming Kinect exclusive Sonic Free Riders, furnished by Sega of Japan and direct from this year's Tokyo Game Show.
You'll see here the inclusion of many new modes, including Relay mode and Tag Team mode, as well as peeks of new stages within the game, and more from the recently revealed Rocky Ridge.
Other sources posted these earlier this morning, but we have the shots in 720p quality–the highest available.  Check them out below.  TSSZ News reporter Danny Russell is at the Tokyo Game Show and this is just a tip of our coverage iceberg.  Keep it here as we bring you more direct from the show.