Sonic Colors's Special Edition Unwrapped
by Tristan Oliver
September 20, 2010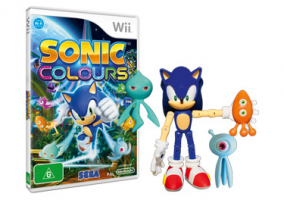 Different Wisps for Different Editions
Through EB Games Australia, we finally know what will be included in the Sonic Colors, and as many suspected, figurines will be a part of the packages.
In addition to the knowledge that most European countries and Australian have an opportunity to purchase the SE, the listings EB Games has note each edition comes with the game, one Sonic figurine, and 3 Wisps a piece.  The Wii edition will contain White, Cyan, and Orange wisps, while the DS edition will carry Yellow, Red, and Blue wisps.
Better views of both SEs are below.  There's still no word on whether we'll see this come stateside.  If we see something, we will pass it along–and if you see something, be sure to tell us via our News Tips system.