New Video: Sonic Classic Still Delayed But "Not Dead"
by Tristan Oliver
September 21, 2010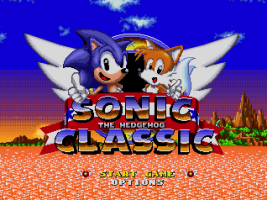 "Lots of Bug Testing" Yields New Special Stages
We're in the heart of September with nothing concrete yet regarding the full release of Sonic Classic.  To keep drumming up interest, early today the SFG's creator Hez released a long trailer showing off more in-game footage, and some dramatically new Special Stages.
"No, It's not dead. Just lots of bug testing," Hez said this morning on Sonic Retro.  "I changed up the special stages completely. Now they are more like Sonic Chaos's with a bit of a twist. I was told by too many testers the original 'giant all in one' special stage was far too hard."
That testing and subsequent changes have yielded what you can see–but not yet play–below.  As stated, there's no definitive release date yet for the SFG, but it is a highly anticipated one, and we'll let you know anything more we hear.