On EBay, a Sonic 10th Anniversary Wine Glass
by Tristan Oliver
September 28, 2010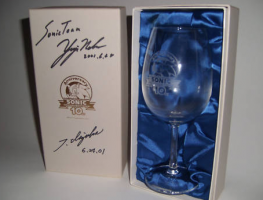 Signed by Naka, Iizuka
From time to time we check out the rare and strange of the EBay auction, and we've found something sure to satisfy your quench for thirst–provided you're of the legal drinking age.
Out of Britain, It's a commemorative wine glass for Sonic's 10th anniversary.  The listing states it was given to Sega employees for big blue's birthday, and was never offered to the public.  What's more, Sonic Team greats of past and present are well represented via signature of former head Yuji Naka, and current head Takashi Iizuka on the case.
The auction labeled the wine glass "used," but the seller isn't so sure the merchandise was. Given the price, those who can afford it can likely find out for themselves; with a £300 asking price, that's over $475 in US money–though shipping is free.  With that kind of cash, you no doubt could afford a nice bottle of bubbly to celebrate the purchase.