Sega Reveals Super Monkey Ball 3DS Edition
by Tristan Oliver
September 29, 2010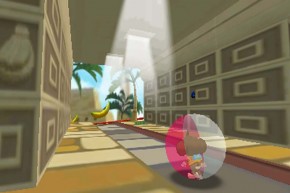 Details–and Screenshots–Inside
Part of Wednesday's Nintendo Fall conference was revealed information on one of what is now six Sega projects in development for the Nintendo 3DS, including the next Sonic–the next Super Monkey Ball.
Under the tentative name Super Monkey Ball, a press release from the company explains there will be a new single player campaign, as well as multiplayer options via classic battles in Monkey Race and Monkey Fight.  Both will allow up to four player battles via wi-fi.
The next SMB will be out in 2011, though not necessarily at the same time as the 3DS's domestic launch.  We'll keep you up to speed on those specifics when they come in.  In the mean time, Sega Europe released nine screenshots from the game today.  Though they ultimately do no justice to the game or the console, you can imagine what it'll be like for AiAi and the gang to pop out at you.  Those shots are below in our gallery.