Six New Sonic Fan Remix Screenshots
by Tristan Oliver
October 18, 2010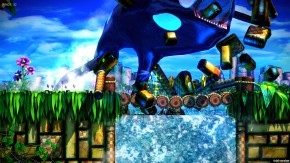 With a Demo on Deck Very Soon
Pelikan13, creator of Sonic Fan Remix, announced late last week he would bring a playable 3 act demo of the hotly anticipated, visually stunning fan game to the public as soon as this week.
With a beta testing team now 25 strong, there appears a level of comfort by him to bring at least three acts of the game out for the public.  However, there will be no boss stage.  But given how the game has received mainstream attention on its visuals alone, it is almost a non-worry.
With the announcement, Pelikan13 offered five in-game screenshots across the first three acts.  A sixth was afforded later by one of the game's testers.  All six are below.  We will let you know once the first demo of Sonic Fan Remix is made available.