Penders on Archie Sonic Copyright Case: It's Not Over
by Tristan Oliver
October 20, 2010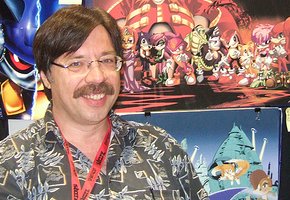 "I continue to use every legal means at my disposal"
On Tuesday evening, former Archie Sonic comic writer Ken Penders released a terse statement on the front page of his website claiming the legal dispute between him and Archie Comics remains unresolved.
"Contrary to claims made recently at the NYC Comic Con by Archie's Mike Pellerito, I continue to maintain copyright ownership of characters I created and this issue has not been resolved," Penders wrote.
Those claims were made first to TSSZ News on the first day of the New York Comic Con, when Pellerito claimed to us Archie Comics prevailed in the conflict, which erupted over the Summer.  Pellerito told us a single phone call from Archie's legal department gave Penders cause to retreat.
"My claim has merit and I continue to use every legal means at my disposal to protect and preserve my rights," Penders continued.  "It's bizarre that Archie would make a public statement that indicates otherwise."
Penders did not elaborate what those legal means were. But if nothing else, Penders looks willing to drag the issue out as long as possible–something that may not be good for either party. We will keep you informed on any updates.