New Video: Sonic Free Riders Final Build Demo
by Tristan Oliver
October 21, 2010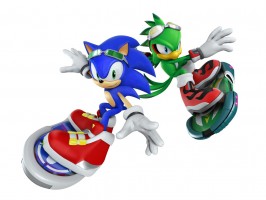 Gamespot Reveals the New Lava Stage in Action
This evening, Gamespot's Daily Demo was the Kinect exclusive Sonic Free Riders.
Converted to Youtube by Hero of Legend, the more than six minute demo takes us through menus and some levels, including the new volcano, lava like stage.  You'll see a couple newly confirmed characters, including Rouge, Silver, and Cream the Rabbit.  Voice control was also demonstrated.
Bike controls were also demonstrated and then put to the test in the new lava stage.  It looks like a very volatile area where players can get burned pretty fast.  Check it out for yourself in the new video below.  Sonic Free Riders is now out in less than two weeks; stay with TSSZ News for the latest information.