New Sonic Free Riders Character Art
by Tristan Oliver
October 26, 2010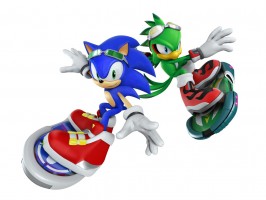 This As Domestic Website Portal Updates
The US and UK portal to Sonic Free Riders was updated today, and with it comes some new rips and new character art.
Woun and the Russian website Sonic Scene (not to be confused with another TSSZ News affiliate of ours) uploaded shots of Sonic, Tails, Knuckles, Jet, Wave, and Storm today.  Other than a vocal theme, it appears that's the only new content to come out of today's update.
Check out the six clean images in the gallery below.  We're now a week and a half to Kinect's launch day–and SFR is indeed a launch title for the platform.  Updates should be coming fast and furious in the build up to the day, so stay with TSSZ News for more.  We thank Woun for sending this to us.  If you have news to share, be sure to share it with us by clicking News Tips at the top of every page.