Iizuka Speaks of Sonic Adventure 3…Sort Of
by Tristan Oliver
October 27, 2010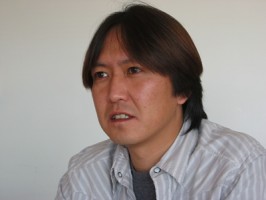 "If many people really really want it…then perhaps"
It is still one of the most celebrated Sonic franchises of the 3D era–Sonic Adventure.  While the argument can be made a spiritual successor to the series was made two years ago in the form of Sonic Unleashed–its Japanese title was Sonic World Adventure, after all–there stands a chance of a more direct sequel–that is, if the fans want it.
That's according to Sonic Team head Takashi Iizuka, who spoke this week to Dutch website SegaOnline.  Its webmaster, Robert, E-Mailed TSSZ News a link to the Q&A via News Tips, which mostly focuses on Sonic Colors.  But it's the last question that should get your attention; Robert asks about the prospects of a proper Sonic Adventure 3.  Iizuka says there are no plans right now, but depending on fan outcry, that could change:
SegaOnline: Will Sonic Adventure 3 ever see the light of day?

Takashi Iizuka: -thinks- no, but if an opportunity might present itself… Specifically speaking there are no plans, so right now I can't really say anything about it.
Well, on the flip side, if many people really really want it, that perhaps this is something the sonic fan community wants, "this would be such an awesome thing, we want it really bad" then perhaps.
Also noteworthy: Iizuka denied in the interview the Sonic Simulator stages from Sonic Colors, which have been proven to be laid out a great deal like classic Sonic stages, are deliberately direct descendants–doing so while being referenced to a side by side comparison.
"The multiplayer levels are not inspired by the old-skool Sonic levels and / or the Green Hill Zone," Iizuka said.  "The multiplayer level that can be seen in the video is just one section of a larger whole: the 'Eggman's Incredible Interstellar Amusement Park'."
You can read the complete interview, translated through Google, at the link cited above–and we thank Robert of SegaOnline.nl for sending it to us.