Jaleel White Tapped for Lebron Sonic Fan Film
by Tristan Oliver
October 27, 2010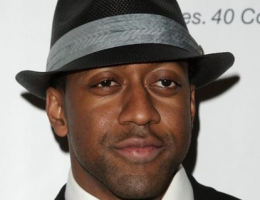 Donations Now Sought for CGI/Live Action Mix
Jaleel White, who offered the earliest voice to Sonic the Hedgehog, has signed on for Eddie Lebron's Sonic fan film, according to a statement released by the filmmaker this week on the project's website.
"We firmly believe that to make the project more legit and truth to our fandom, his involvement is key," Lebron said.  "We are extremely happy to have him involved and thank him and his representatives for being supportive and helpful."
White was the original voice of Sonic during the ABC Saturday Morning television series as well as the syndicated Adventures of Sonic the Hedgehog, doing so while acting in Family Matters as Steve Urkel.  He returned to voice acting for 1999's Sonic Underground.  Now 33 years old, White's resume is more refined, and includes roles in Boston Legal, Psych, and Dreamgirls, the 2006 film which has two Oscar wins and six more nominations to its name.  For this film, White will voice a CGI Sonic.
"…The CGI Sonic has been designed to be as faithful to his original design as possible while adding subtle touches to make the character more detailed," Lebron explains.
Lebron compares the short film's direction to series like Die Hard–action packed, but never taking itself seriously, with hints of comedy sprinkled throughout.  It will be ten to twenty minutes, Lebron estimates.
"The goal is to have a fast paced, action adventure film that takes itself seriously yet is willing to have fun without being cheesy or corny," Lebron said.  "We want this fan film to capture a fun and excitement that the original Genesis series made us feel and still make us free. There's no denying that those games still hold up to this very day."
Like Richard Kuta's fan film, Lebron is asking for donations.  Stressing the film's budget has been set under the potential that none will be received, Lebron has set up the system such that donations as little as a dollar will get you a contributor credit in the film.  A donation of more than $650 nets a Producer credit.
Lebron noted he would like this film to serve as a spec to show several companies, including Sega, how to adapt the hedgehog to the big screen.
"Ultimately we want something so polish and high in quality, it could possibly serve as a spec film to show to the right people in the industry, SEGA included," Lebron said.
That may not be a good idea.  The early stages of Kuta's Sonic fan film were met with cease and desist letters from Sega.  Given the addition of White in particular, a similar situation would spell disaster.
If nothing else, a fair bit of effort, if not accelerated effort, is being poured into the project; filming will begin later this Fall over a period of several days. Keep your eyes peeled here for any new information. Thanks to all our news tipsters–too many to mention here–for sending this in.