EU Ivy the Kiwi? Proceeds to Benefit Save the Kiwi Trust
by Tristan Oliver
October 29, 2010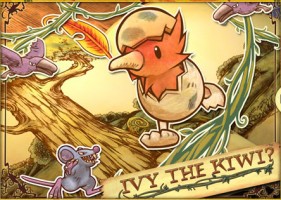 Released Today, New Zealand Based Partnership to Benefit
We have good news for those itching to pick up Ivy the Kiwi?, the Prope based platform-puzzler, in Europe today.  A portion of the sale price will benefit a group who needs it–the Kiwis themselves.
Rising Star Games, the EU publisher, has announced 10p from every sale of the game will go toward Save the Kiwi, a New Zealand based trust dedicated to the continued preservation of all Kiwi.  The charity is sponsored by the Bank of New Zealand, and among the trust's objectives is to retrieve Kiwi eggs from the wild for proper incubation–increasing the creature's chances of survival.
That is important to the Kiwi population, because there are so few of them left. All five known species of Kiwi are endangered, and Save the Kiwi estimates only 70,000 of them remain as of 2008.  That number is expected to decline, even with the trust's efforts.  Their survival is also important to the people of New Zealand, as the animal is their national symbol.
For those who planned to purchase Ivy the Kiwi? in Europe, know a portion of your money is going toward a good environmental cause.  For those who were on the fence with a purchase, you now have a good reason to do so. Both Wii and DS editions are out today in Europe.