Sonic Free Riders Video Catch-Up
by Tristan Oliver
October 29, 2010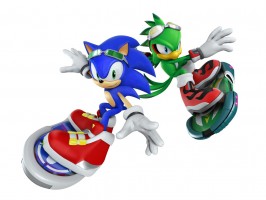 Two Videos, More Gameplay
In the past 24 hours, more bits and pieces of video from the upcoming Kinect exclusive Sonic Free Riders has been released.
The lion's share of it was on Gamespot, where the title went under the microscope as part of the Daily.  Multiplayer was demoed, and a new stage was seen for the first time.
The second video is a release from Microsoft plugging the array of games available for the XBOX 360 peripheral.  At the 1:27 mark you can see more SFR footage, including Rocky Ridge, the volcano stage, and the ice area.
Both videos were ripped to YouTube by Russian Sonic scener Woun, and we have those below.  We thank Woun for ripping and tipping to us.  If you have news to share, be sure to share it with us by clicking News Tips at the top of every page.