11 New Sonic Free Riders Screenshots
by Tristan Oliver
November 1, 2010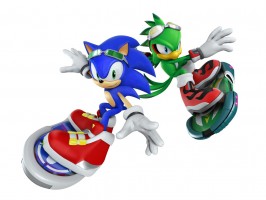 Plenty of Multiplayer Modes on Display
This morning, Sega released several new screenshots from Sonic Free Riders, out for XBOX 360's Kinect in North America on Thursday.
All of them focus on the game's multiplayer modes, from split screen to the tag team mode.  You'll see more of the game's variety of stages, the names of which were revealed when SFR's achievements were posted over the weekend.  That means more of Magma Rift, Forgotten Tomb, Metropolis Speedway, and more.
Woun of Russian site Sonic Scene again ripped and tipped these to us, and the fruits of his labor are below.  As always, we thank Woun for sending them in.  If you have news to share, be sure to share it with us by clicking News Tips at the top of every page.