New Video: IGN Rates Sonic Free Riders a 7.5
by Tristan Oliver
November 1, 2010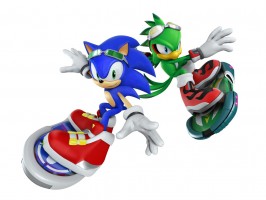 "One of Kinect's Stronger Launch Titles"
A 7.5 out of 10 rating to many is, at best, respectable, if not lukewarm.  It is the first score given to the upcoming Kinect exclusive Sonic Free Riders by IGN.
The video below contains plenty of in-game footage, including the game's story mode, and how Tails sounds in-game.  Also included, a compliment by the media megasite among "Kinect's stronger launch titles," with gripes on initial setup, and notes an easy learning curve after that.  Varying success with the game's multiplayer modes was also explained.
"You either want to pretend you're on a hoverboard from Back to the Future II, or you don't," says the narrator/reviewer.  "If you do, then Sonic Free Riders is definitely one of the Kinect launch games to check out."
We know what you want to check out most–the wide variety of in-game video within the embed below.  Take a look and offer your thoughts below.  Thanks to Professor Pickle and Woun for sending this in.  If you have news to share, be sure to share it with us by clicking News Tips at the top of every page.