Six More New HD Sonic Free Riders Screenshots
by Tristan Oliver
November 2, 2010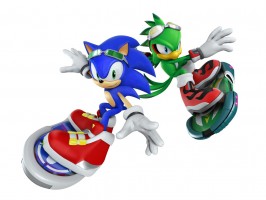 More Multiplayer Madness Inside
To complement the positive review IGN gave to Sonic Free Riders on Monday, the media megasite released late in the day six more in-game shots from the Kinect exclusive.
Three of the six shots are from the game's various multiplayer modes, from split screen to the tag mode.  The other three are in-game shots, and look to be a hodgepodge of the Frozen Forest and Forgotten Tomb stages.
Those six screenshots–watermarked–are below.  We thank Woun of Russian website Sonic Scene for sending this in; if you click the link cited you'll be able to download the IGN video review if you want to take a closer look at the footage from Monday.  If you have news to share, be sure to share it with us by clicking News Tips at the top of every page.  And if you missed it yesterday, remember we have eleven more clean shots for you to look at.