On EBay, a 1993 Era Sonic RC Car
by Tristan Oliver
November 3, 2010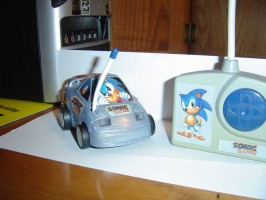 Who Said Sonic Prefers to Travel on Fast Feet?
Before Sonic & Sega All-Stars Racing, and before Sonic Drift, there evidently was this–Sonic crammed in a small RC car for your personal entertainment.  You can own such a thing through EBay.
It allegedly hails from 1993, according to the Ohio based seller.  Made by Nikko, Sonic looks a bit crammed in the car, remote controlled, but it still works and in "great shape," says the seller.  For the current asking price of $99.99, and the cost of shipping and handling cost which the buyer also is responsible for, it better me.
We've relayed some pictures of the parcel below.  If you're interested in a purchase, the sale ends in two weeks.