Super Meat Boy Devs Criticize Sonic 4's Episodic Nature
by Tristan Oliver
November 3, 2010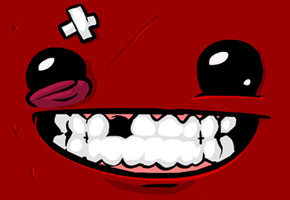 "It's a way for companies to trick you into paying more for a game"
Wildly popular and just released to XBOX Live Arcade, Super Meat Boy is already being hailed as the next great platformer by fans and press alike.  Based off a 2008 Newgrounds Flash game release, its developers, marred in a conundrum of how to release the game to Nintendo Wii, have refuted calls to release the downloadable title episodically–calling out another one-time platform giant in the process.
"Dear Internets: Super Meat Boy on Wii will NOT be Episodic," wrote Team Meat on their Twitter feed Tuesday.  "That's retarded and we won't do it. I'd rather kill myself."
It was in the why of that remark where Sonic 4–and ultimately Sega's decision to make it episodic–that drew heat from Team Meat in a later clarification.
"Because it is. It's a way for companies to trick you into paying more for a game. Sonic fucking 4," read a follow-up from the feed.
Price has been one of many gripes among fans for what amounts to four three-act zones, a boss for each, and a final boss attack in Sonic 4: Episode I.  Compared to Super Meat Boy, the latter was released in full on XBOX 360, with a PC and Mac version, also full, to follow later this month.  But for Team Meat, limitations in file size for WiiWare titles has been a tough problem to tackle–to the point where the developers recently asked fans whether a watered down version or even a more expensive retail disc version would be acceptable for Wii.  It's ironic, given WiiWare was one of the first platforms intended for the game.
For a retail release, a publisher would be necessary.  We suspect after the above remarks that Sega won't be lining up to offer their help.