New Sonic Free Riders Environment Art
by Tristan Oliver
November 4, 2010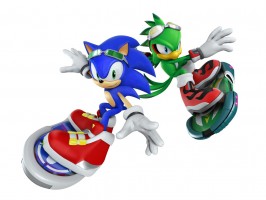 A Clear Difference Between Easy, Hard Tracks
As part of the website update yesterday, some art has been made available publicly from Sonic Free Riders, which launches today along with Microsoft's Kinect peripheral.
Russian Sonic scener Woun found the direct links of art for six of the eight stages.  The art is different depending on whether the course selected is easy or hard–so it appears SFR will have completely different tracks based on difficulty…something a few of you reading this, even at this early hour, may already know if you have the game.
The art is available in the gallery below.  Reviews and opinion for one of Kinect's key launch titles are just starting to pour in now, and we'll cover that as the day progresses.  If you haven't already, be sure to check out the 4th and perhaps final trailer for the game released early this morning, which we brought you–by mere minutes–First @ TSSZ.  There's character art for your review, too.