Sonic Colors NYC Preview Event Underway, Despite Rain
by Tristan Oliver
November 4, 2010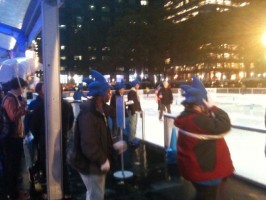 Those Are Hedgehog Hats on the Ice
Given the raw dreary weather across the northeast US today, it's a wonder ice skating is even possible for Sega's Sonic Colors preview event at Bryant Park's Citi Pond today.  But as the photo above demonstrates from Sega's YFrog feed, it's happening right now, and will until 10PM ET tonight.
There are a few skaters braving the rain and the wet surface to get in their free ice skating, with the hedgehog hat in tow.  A second photo uploaded by Sega community staff showed the heart of the show–those Sonic Colors kiosks, in an enclosed, tent-like space.  This is a partially outside event; good think the game playing can't be.
If you are or were at the show this evening, send us a news tip with any pictures or video you shot there.  We'll be sure to credit your efforts.