Photo Gallery: Sonic Colors Bryant Park Event
by Tristan Oliver
November 5, 2010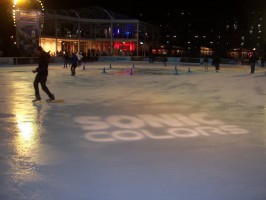 Visual Accounts from Those Who Were There
This morning, we have two combined photo essays of last night's Sonic Colors event in New York City from two of our readers: Dark Qiviut and KeigoNiwa.
These have more an environmental feel to them, showing you how the kiosks and general space was set up, and it includes some towering posters promoting that game that Dark Qiviut called "very inviting" in the news tip sent to us.
You'll also notice a bit of the skating rink had to be cordoned off some, as the raw, rainy night eventually took its toll on the space, making it feel more like an actual pond than on ice.
First, here's how Dark Qiviut described the evening through a comment last night here:
As a New Yorker, I took the opportunity to go to there. It was fantastic. For a small event, there was somewhat a crowd. Both demos played great (although the Wii version lagged horribly once at one of the levels when I activated the Drill).

Pardon the pun, but color me impressed. The games played very well, and I had so much fun. After not playing a new game since Shadow in 2005, it was great playing an upcoming Sonic game.

One thing: That event was one sick, kick-ass advertisement. The event was one large ad for Colors, and as an advertisement/graphic design major, I was very impressed at its fantastic execution. It literally sucked me in.
And here is KeigoNiwa's account in via News Tips:
….Last night at Bryant Park was a total Ball. The only disappointments I had was that the pictures I took with my camera were very dark, and that over the pumping music and the usual hustle and bustle of the city, you couldn't hear the music of the game.

In terms of the event itself, it was well worth it. How could anyone pass up free ice skating PLUS a free mini concert from Cash Cash *not to mention a chance to rock the sonic hats before anyone else* Speaking of which everyone loved my Shadow the Hedgehog hat haha. It was my first time ice skating, and let me tell you, it is NOT as easy as the pros make it look x.x Thankfully i never fell, but it did take me a while to find my rhythm. The event was just a great hangout for Sonic and Sega fans alike.

Now, as for the demo, one word. AMAZING!! *Although there was one frame rate issue when activating Drill in Tropical Resort, but it didn't really do any harm* You truly get the best sensations from both speed and exploration. There were also so really good platforming sections. My favorite part was in Sweet Mountain, when sonic had to run through a runway while gargantuan missiles were shooting straight for him. And when Sega said there are tons of different routes they weren't kidding! Granted, they all mostly take you to the same general place, but there are just so many different was to achieve it. Getting the red medals aren't as hard as it seems, though I guarantee there will be some well hidden ones. As for controls, it's the first Wii game that supported multiple controls where i felt that using the Wiimote and nunchuck was a complete breeze. Everything just felt really natural. *Though I'll still be playing with the Gamecube controller XD*

All and all, my experience in Bryant Park was a total blast, and the game I feel is wayyyy worth getting. November 16th can't get here any faster haha.
We've since learned from KeigoNiwa a new trailer from Colors was shown at the event, although this one focused on the DS edition.
The fruit of both their works can be found below.  We thank both Dark Qiviut and KeigoNiwa for sharing their experiences with us.  If you were there–or have any other news to share–be sure to share it with us by clicking News Tips at the top of every page.  And don't forget to look at the video we posted early this morning direct from the event.