Kotaku Head Offered Sega HQ Troubleshooting Trip after Bad SFR Review
by Tristan Oliver
November 10, 2010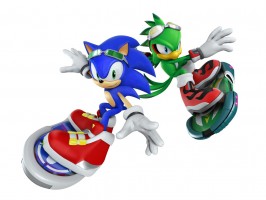 Who's Doing it Wrong–the Company or the Controller?
Kotaku editor in chief Brian Crecente revealed today he was offered a trip by Sega to the company's headquarters to work out the control woes cited in his poor review of Sonic Free Riders.
Crecente made the revelation as part of a larger piece examining the finer points of controlling Sonic Free Riders and its wider impact on the game's reviews.    Though the organization does not assign a numerical score to reviews, the ultimate verdict by Crecente for the Kinect exclusive appeared just as poor as Joystiq's one-star score or GameTrailers's 4 out of 10 rank.
Those words–and a better playthrough by Kotaku deputy editor Stephen Totilo–prompted Sega to contact Crecente, offering a trip with airfare to their studios so he could personally play with more experienced company brass.  It appeared the trip would be on Sega's dime.
But Crecente declined, instead relying on Totilo's tryout to gauge a wider problem:
[….] Some readers in my review started talking about how they didn't have any issues with the game. So I went to Totilo and asked him to try playing it, to see what his experience was like. To my surprise he said that the game's controls worked for him. He still found elements of it frustrating, but Kinect appeared to track him in-game. Baffling.Sega, too, seems baffled. So baffled that they offered to fly me to their studios to play the game with them to see what was going on. I politely declined, but suggested they poll reviewers to see if there was some commonality among those that had control issues.
In the update, Crecente sees a possible problem more with Kinect's recognition of motion control, the impetus for him to publicly compare the height, build, and experience of various SFR reviewers.
There's another more blatant issue, one Crecente didn't take the bait on–another big Sega perk in the hopes others will literally play by their rules.  Though there's no direct evidence Sega made the offer in the hopes of more positive SFR publicity, the connotations that come with a paid trip certainly reek of the possibility.  If nothing else, it shows how much stock Sega is willing to put in the success of SFR, a mascot-based title and one of the few big names committed to the Kinect launch.  Sega, like Microsoft, has a large stake in Kinect's success or failure, and given how the game's Metacritic average still sits at 59, the present failure of Sonic to make the Kinect-ion–especially in the face of better ranked Sonic the Hedgehog 4 and Sonic Colors on more traditional fare–could pose problems for the peripheral's long term success.  Certainly one needs to know how to play a game correctly in order to fairly assess, but the problems presented in Crecente's review were echoed elsewhere, and that makes the intent behind Sega's offer more ethically suspicious.
What do you think?  Was Sega's offer to Crecente inappropriate?  Tell us in the comments section.