SFR Sales Estimates Adjusted Up
by Tristan Oliver
November 17, 2010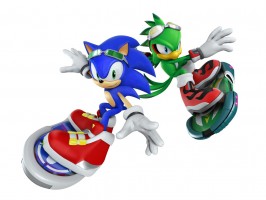 But EU Estimates Anemic
There's some good news and not so good news regarding the unofficial numbers for Sonic Free Riders.
The good news, if you reference our report from last week, is that the current official source for data of this kind, VGChartz, has revised up their best guesstimate on how Sonic Free Riders fared during launch.  The bump is fairly significant compared to where it was, from just over 18,000 now to 25,225 units estimated sold in North America during week 1 of launch.  That is a jump of 37 percent, but it's still nowhere near six figure territory.
The not so good news is out of Europe, where the same website estimates that despite just squeaking into the Chart Track Top 40 charts, just 15,069 units were estimated sold in those territories.  We should note VGChartz includes not just Europe, but the Middle East, Australia, and non-Japanese Asian countries in the count.
We must stress these are unofficial, and there's no reason to panic yet.  Microsoft has already claimed 1 million Kinects sold, and is looking toward the 5 million mark by the end of the year.  With that in mind, we'll look for these figures to hopefully go up as we dive deeper into the Holiday season.  It will be interesting to see unfold.